Why Your Donation Matters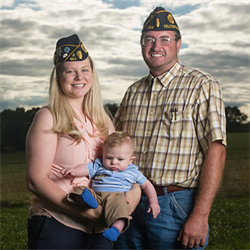 SERVING VETERANS, SERVING AMERICA
Thanks to the support of generous donors like you, The American Legion can continue to provide much-needed assistance to disabled veterans, U.S. military families with children at home who are facing unexpected financial hardships, troops recovering from wounds and illnesses and the children of fallen troops and disabled veterans.
Accredited Charity
American Legion Charities, Inc. 501(c)(3) 
This is a charitable corporation established by American Legion National Headquarters to receive bequests from individuals, corporations or foundations to fund veterans programs for unrestricted or restricted gifts to assist veterans or their families. Donations may include specific bequests to fund Legion programs such as Boys Nation, Boys State, American Legion Baseball, The American Legion Oratorical Program and others that support children and youth activities or the general charitable programs of The American Legion.
Donate Today!
ONLINE FORM: Please fill out our online Donation Form.
MAIL-IN DONATION FROM:  If you would prefer to mail in your donation, please download our paper form. Our mailing address is provided on all the forms. We look forward to hearing from you!
Want to learn more about our organization or have questions? Feel free to contact us…