Sons of The American Legion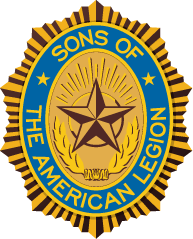 S.A.L. members include males of all ages whose parents or grandparents served in the U.S. military and were eligible for American Legion membership.
Would you like your sons, grandsons, or great-grandsons to enjoy many of the benefits you enjoy as a member of the American Legion?  Do you desire for them to learn about the American Legion Family, Americanism, and how they can help advance the cause of veterans in our community, state, and nation? Are you the son of an eligible Legion member yourself and want to support the Legion in another exciting way? Then, the Sons of the American Legion is the organization for you.
The SAL is a program of the American Legion for the male descendants of Legion members, or eligible Legion members, who died in service, or who died prior to becoming Legion members.  SAL Squadron members support programs of the American Legion, including Americanism, Children and Youth, Veterans Affairs and Rehabilitation, and related Activities.  SAL members have assisted their Posts in many ways, serving on honor guards for funerals, cooking at fund raising meals, assisting with Veterans Day and Memorial Day observances, participating in community parades, and many other activities.  As Legionnaires grow older and pass on to the Post Everlasting, many Posts come to rely on the help of their SAL to continue the great work Legionnaires do in their communities.
American Legion Post 1 is organizing and recruiting new members to form a squadron.  Ten members are needed to charter an SAL Squadron. Dues are $15.00 for under 18 years of age and $25.00 for adults.
National website: https://www.legion.org/sons.
Daniel Sauerwein
Sons of the American Legion
Email: [email protected]
Cell: 218-791-3804